shahram entekhabi

It's Been a Long Way, Baby...
16 XI - 31 XII 2006

Shahram Enthekabi's exhibition is a precisely composed story about strangeness and quest for oneself hidden under the layers of various incarnations and masks. These masks are put on by his protagonists, but also all other people, simply – all of us. The exhibition opens with a light box which serves as a kind of a light beacon pointing to the entrance. It bears an inscription "Home". However, this "home" does not open with a doorway, but a wall with a mirror. Thus a person who wants to see the exhibition has to be confronted with her/his reflection. This face to face confrontation with your own alter ego is made difficult since the mirror is strongly lit. It may lead us to form interpretations which concern psychological facts: for we cannot see clearly our own external appearance in the way others can, in a sense our self-awareness is somehow obscure, whereas our ego always remains in the centre of our attention, required by the obscurity of our silhouette.
What is to be the door of the exhibition becomes a false film "projection", showing one more incarnation, one more costume to put on, another version of a personality life imposes on us.
The central part of the exhibition takes place in the dark abyss, prefigurating – as we may say – the abysses of the irrational from which materialized male figures suddenly emerge. They appear one by one, never together, in order to disappear in a minute, give the space to another male figure. The man is always the same. He is dressed in unassuming clothes which relates to typical emigrant figures you can come across in the streets of Western Europe. Thus we have a Muslim figure – Arab, then an immigrant from the Balkans and Latin America. Each of them belongs to a marginalized group, often disdained by born-Europeans, as being ethnically located at the bottom of a social ladder. They do not participate in the mainstream life; they are unimportant. They wear cheap, old-fashioned clothes; waste their time, mostly doing nothing. In one of the films a man in a humble suit, slightly too small, walks along the immigrant districts of Berlin, as if in quest for his own place. He is followed by the same man, his double. In another film the same man is featured in a uniform as a fighter or guerilla, a modern embodiment of Che Guevara. It is the aptest manifestation of a Western attitude towards immigrants, people from outside their world; saturated with fascination and a sense of danger. The guerilla emanates masculine sex appeal; at the same time, ironically laughing he performs an act of self-destruction. He is a stranger satisfying expectations people have towards strangers – he predicts his self-destruction and constitutes the fulfillment of their fear related fanaticism.
Miguel and Mladen, featured in "Islamic Star" by Entekhabi, are signs, figures which emerge from the darkness of irrationality. They seem have a potential, capable of adopting life. This interpretation is reinforced by the fact that the artist himself personifies all the characters. He seems to be telling that the weight of an identity can be too heavy and however our identity can be created to a certain extent, it is usually imposed on us. For every individual is attached various labels to, represents various groups, centres. This problem can be seen most vividly among the immigrants. Although he surely does not like it, Entekhabi himself is recognized as an "Iranian" artist, "typical" representative of the Middle Eastern artist, talking about his art, experience and status. Entekhabi is aware of this approach and expectations perfectly well – and he fulfills them. All that results in their peculiar deconstruction which reveals tensions underlying art that originates where various cultures collide.
Shahram Entekhabi uses a language of the globalized world. His art is simple and truly laconic. The artist comes from a different culture and although he is multi-lingual, in his work he uses his second language. Perhaps it is a kind of visual Esperanto, a "basic" version used in order to allow the largest group of people coming from different cultures to understand it.
Magdalena Ujma

Exhibition Supported by:


Media Patrons of the exhibition:
Gazeta Wyborcza, TVP 3 Kraków, Onet.pl, Cracow-life.com, Le Monde diplomatique, Tygodnik Powszechny, Radio TOK FM, OBIEG, TVP KULTURA, Biuletyn Fotograficzny, Fotopolis.pl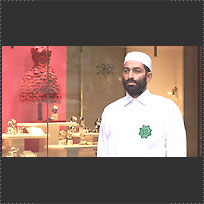 ^ Shahram Entekhabi, series Migrants, Islamic Star, video still, 2005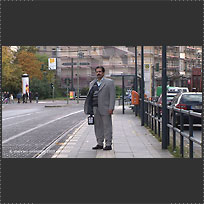 ^ Shahram Entekhabi, series Migrants, Mehmet, video still, 2005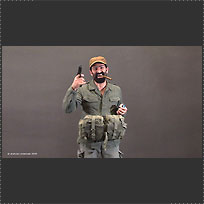 ^ Shahram Entekhabi, series Migrants, Miguel, video still, 2005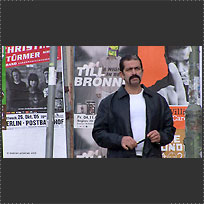 ^ Shahram Entekhabi, series Migrants, Mladen, video still, 2005
^ Shahram Entekhabi, exhibition It's Been a Long Way, Baby, 2006; phot. M. Gardulski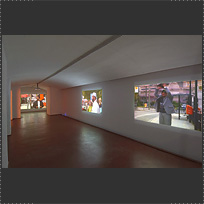 ^ Shahram Entekhabi, exhibition It's Been a Long Way, Baby, 2006; phot. M. Gardulski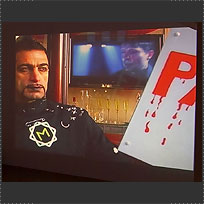 ^ Shahram Entekhabi, exhibition It's Been a Long Way, Baby, 2006; phot. M. Gardulski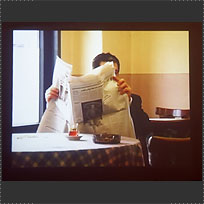 ^ Shahram Entekhabi, exhibition It's Been a Long Way, Baby, 2006; phot. M. Gardulski